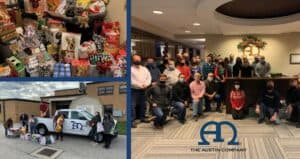 What a blessing it was today to join some of my teammates in the delivery of food, products, and gifts to veterans and their families in need. With so many veterans in need during these trying times, it means so much to our team to be able to give back.
One of the blessings we have at Austin is that we get to design and build the industrial landscape that helps society function. The work we do for manufacturers across North America directly impacts our everyday lives. Nearly any grocery aisle we walk down contains products produced or processed in a facility Austin built. We take comfort in knowing that the planes and cars we travel in this holiday season were manufactured in whole or part (i.e.. tier one and two type suppliers) in factories designed and constructed by Austin. When we purchase medicine at the drug store or receive that critical COVID vaccine, we take pride in the small part we had in developing the manufacturing infrastructure needed to deliver these products.
For several years, we have sent out holiday baskets that included a few of our "favorite things." From sweet treats, to home and personal care goods, to medicine, to toy cars and planes, these gift baskets were brimming with our client's products (or representations of our client's products – as it's kind of hard and expensive to put a vehicle into a gift basket – hence the toy cars and planes). Products we were happy to be a small part of bringing to the world by designing and building the factories that produce them. Assembled with care, each basket was created with the recipient in mind filled with brands we all know and love.
With so many folks working remotely and such a tremendous need in our communities, we decided to expand our normal giving this year by partnering with Northeast Ohio Foundation for Patriotism (NEOPAT).  NEOPAT is a great organization that works to meet local military and veteran families' needs.
Working with NEOPAT we fulfilled veteran families' Christmas lists and stocked NEOPAT's food pantry. Austin was able to support the Christmas lists of three veteran families with children's needs, two of them currently without a permanent home. Also, in the spirit of our "favorite things" tradition and to honor our clients, we supplied NEOPAT's pantry with items produced in facilities designed or built by Austin.
Austin's connection to veterans, the American military mission, and the American cause in general, runs deep and spans nearly 142-years. Our relationship with the defense industry includes defense equipment manufacturing plants from WWI through today's high-tech defense facilities. We have had a part to play in building manufacturing plants for companies who support the military, such as the food and beverage and consumer products factories. And for many years we seek to hire veterans – helping them transition from "helmets to hardhats."
As Americans and American businesses, we operate under a blanket of freedom and protection. This comfort is provided by those who have served and those who continue to serve our country. We make these donations in a spirit of gratitude for our veterans' sacrifices.
Thank you to all our teammates, customers, partners in business, friends, and communities for helping to position us in a way that we can support the communities we work in. These donations (and so many more throughout the year and North America) are made thanks to you and in your honor.
Special thanks to all the Austinites who helped coordinate this, and to those that helped make the deliveries including – Mike Pierce (President), Jamie Hullman (VP of Finance, USMC veteran), Nicole Rosario (Special Projects Manager), Megan Bishop (Executive Assistant and Legal Coordinator), and Tremaine Thompson (Construction Field Engineer, US Army veteran).
BRANDON DAVIS
The Austin Company
Vice President of Operations and General Manager – Eastern and Mexico Operations
Published: December 24, 2020